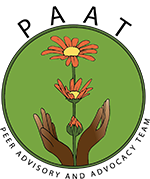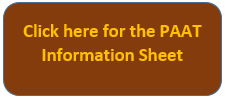 GOALS OF PAAT
Inspire hope and wellness in the community by utilizing valued peer experiences
Encourage connection with the community
Actively strive to reduce stigma through educational and experiential opportunities
Empower individuals to find their own paths to mental wellness and recovery
WHAT IS IT LIKE?
We embrace the concepts of wellness, service, and compassion for all.
PAAT enhances and strengthens services for people living with mental illness, their families, and loved ones by:
Providing information forums, public service announcements using all forms of media, and unique educational opportunities via e-learning, classroom instruction, and field training for individuals with lived experience with mental illness.
Becoming active members of committees, commissions, and boards with focused interests in improving the mental health system, offering proposals and recommendations for successful outcomes for individuals and our communities.
Creating an atmosphere of acceptance and spreading the message of hope.
Leading by example and taking responsibility for energizing and encouraging our membership.
Providing a vision and support to individuals living with mental illness, while offering a voice for peers as custodians of their trust.
WHO CAN PARTICIPATE?
ANYONE!
The Peer Advisory and Advocacy Team welcomes anyone who is looking to be a part of a group of peers, mentors, friends and volunteers who share a passion to help shape community's mental health landscape. PAAT also provides a platform for voicing comments, observations, complaints, and concerns about our community's Mental Health, wit decisive intentions to build a comprehensive mental health system that affirms, supports, and assists every member of our community.
MEETING TIMES
General Meeting: Every Second (2nd) Monday of each month | 11:00am-12:30pm | via ZOOM
Planning and Input Meeting: Every Fourth (4th) Monday of each month | 11:00am-12:30pm | via ZOOM
ADDITIONAL LINKS
American Foundation of Suicide Prevention
Governor Newsom Signs Bills to Expand Access to Quality Behavioral Health Care
SB 803 Signed Into Law
CONTACT US!
Stephanie Carlotti
scarlotti@t-mha.org
805-540-6575