Growing Grounds Farm and Nursery is open to the public on Tuesdays
Community Sale
Come Support Your Local Nonprofit
Every Tuesday
11:00am – 4:00pm
3740 Orcutt Road, San Luis Obispo
Our Program
Growing Grounds Farm and Nursery is one of three social enterprises operated by TMHA. Established over 35 years ago, Growing Grounds is a nonprofit wholesale nursery that provides therapeutic horticulture, socialization opportunities, paid employment, and soft job skills training for adults with severe and persistent mental illness.
At the Nursery, we balance a traditional business model providing employment opportunities in a near competitive environment with the delivery of critically needed social services. Our goal is to grow a large selection of quality plants while providing an empowering environment where our employees progress on their path towards recovery. Our employees earn minimum wage and work between 1.5 and 4 hour shifts.
In order to be a paid employee, you need to have an open case with San Luis Obispo County Mental Health, and then be referred to the farm for an interview. You can get more information by calling us at (805) 543-6071.
For more information about this program, please see our Growing Grounds Nursery San Luis Obispo Fact Sheet and in Spanish.
Our Product
The Nursery is open as a fundraiser for us and for your shelter at home gardening needs every Tuesday from 11 am to 4 pm. Regular retail prices apply.
Landscapers and nurseries are always welcome to order from our Availability List or come directly to the Nursery. We offer free delivery countywide with a low minimum order. For a list of plants currently available, CLICK HERE.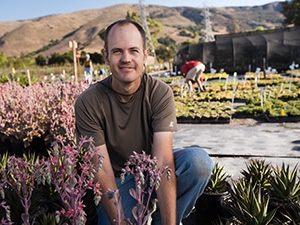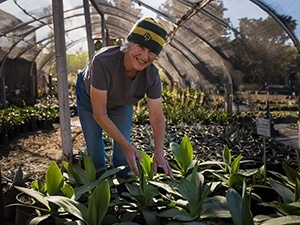 You can find our plants at many nurseries around San Luis Obispo County. Look for the bright yellow tag in the pot with our flower logo. (photo)
Adelaide Florist – Templeton
Avila Valley Barn
Bay Laurel Nursery – Atascadero
Birchwood Nursery - Nipomo
Cambria Nursery and Florist
Cherry Lane Nursery – Arroyo Grande
Daylight Gardens - SLO
Educated Gardener - Santa Margarita
Farm Supply Paso Robles
Farm Supply San Luis Obispo
Finley Family Nursery -Templeton
Grow Nursery – Cambria
Growing Grounds Downtown – San Luis Obispo
Los Osos Valley Nursery
Miner's Ace Hardware Arroyo Grande
Miner's Ace Hardware Atascadero
Miner's Ace Hardware Goleta
Miner's Ace Hardware Grover Beach
Miner's Ace Hardware Los Osos
Miner's Ace Hardware Morro Bay
Miner's Ace Hardware Nipomo
Miner's Ace Hardware San Luis Obispo
Moore's Western Nursery - Atascadero
Natures Touch Nursery – Templeton
Pismo Bob's – Pismo Beach
Ron's – Grover Beach
Spellbound Herbs - Cambria
Terra Sol Nursery – Goleta
Windmill Nursery – Buellton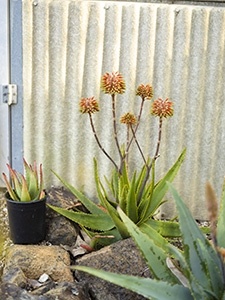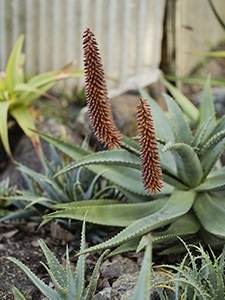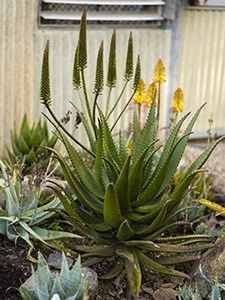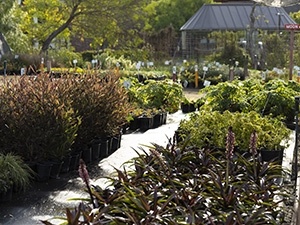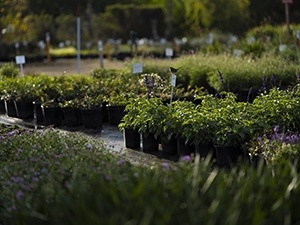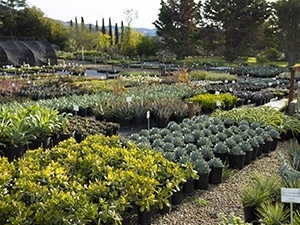 Our Friends
We love our volunteers, and always have room for individuals and small groups. With as little advance notice as one day, a person can come to the Nursery and participate in a normal work day, working side by side with our employees. Long term volunteers can arrange specific days and times with Nursery management and can participate in infrastructure creation and maintenance, daily operations, and special projects. Growing Grounds Farm & Nursery also serves as a location for those who need to fulfill court ordered community service, or community service for section 8 housing. Please contact Farm staff at (805) 543-6071 to arrange volunteer scheduling.