The 2020 Opening Minds art show will be held in Paso Robles during the month of May 2020 in support of Mental Health Awareness Month.
We are accepting applications for the Featured Piece at this time, and a call for general art to be displayed in the art show will happen in January 2020.
Opening Minds is a community art show in celebration of living mentally well. The Opening Minds art show was first developed in 1995. TMHA's goal is to help the community see that we should not be definited in terms of our illness but by our strengths, gifts and by the contributions we make to society.
Opening Minds is presented by TMHA and San Luis Obispo County Behavioral Health Services. The show is funded in part by the Mental Health Services Act (Proposition 63) and cosponsored by TMHA's Peer Advisory and Advocacy Team (PAAT).
For 68 years, Mental Health America has led the observance of May as Mental Health Month by reaching millions of peple through the media, local events and screenings. TMHA supports this effort locally by hosting Opening Minds during this time.
Location:
Studios on the Park, 1130 Pine Street, Paso Robles, California
Dates: May 2020
Times: TBA
For more information, please contact Meghan Madsen 805-503-0350 or jcreason@t-mha.org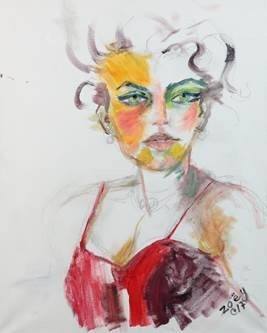 2018 Featured Piece
Artist: Zoey Walsh