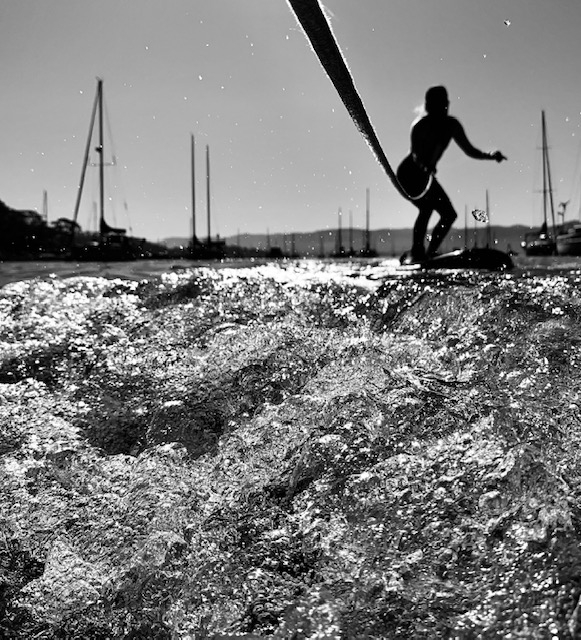 Thalassophile
Black and white fine art photography
12" x 12"
"We believe that the ocean produces negative ions that aid in mental health productivity, creating a happier, healthier, sound mind." - David Barnard
ARTIST'S INTERVIEW
Thalassophile is a striking black and white photograph. What was your process in taking this shot?
I have documented nearly everyday of my life for the last 30 plus years photographically, so the day I shot this photo was no different in that respect, however, I love the interplay between light and water and this was an opportunity to capture that in action.
Where was this photograph taken?
Morro Bay, California.
I had to look up the word "Thalassophile," and it matches this photograph perfectly. What does this word mean to you?
Love of the water!
The woman in the photograph is your friend, Erin. With that in mind, what message do you intend for this photograph to say?
Have fun, be adventurous, be happy!
What is your artistic process?
Capturing light coming through a single droplet is satisfying.
Is there anything else you would like the public to know about this photograph?
Life is short, live life to its fullest!
Artist's Bio
My love for photography began 30 plus years ago as a way to document my experience in the United State Marine Corps. It has evolved from portraiture, stills, landscapes to what my passion is now... birds in flight! Catching a peregrine falcon in descent at nearly two hundred miles per hour is as exhilarating as anything I have ever shot.
My memory has never been good so I have used my camera to document my daily activities like many people might use a journal. In addition I have used photography to document war zones, natural disasters and some of the most beautiful places on this planet!
In the end I believe art should educate, inspire, illuminate and help us understand that we are all inextricably linked!


MODEL'S INTERVIEW
What message do you intend for this photograph to say?
For me, as a female veteran of the U.S. Coast Guard and a survivor of sexual assault, from both in and out of the workplace, I want people to know how important self-care is. In David's photograph, I want to show that it isn't selfish to put yourself first. I accomplish this by taking care of both my mental and physical health, so in the long run I can take care of others too. By Stand Up Paddleboarding, breathing in the sea, and surrounding myself with supportive relationships, I am able to move forward from past traumas and focus on a happy and healthy lifestyle. You don't have to live in your pain.