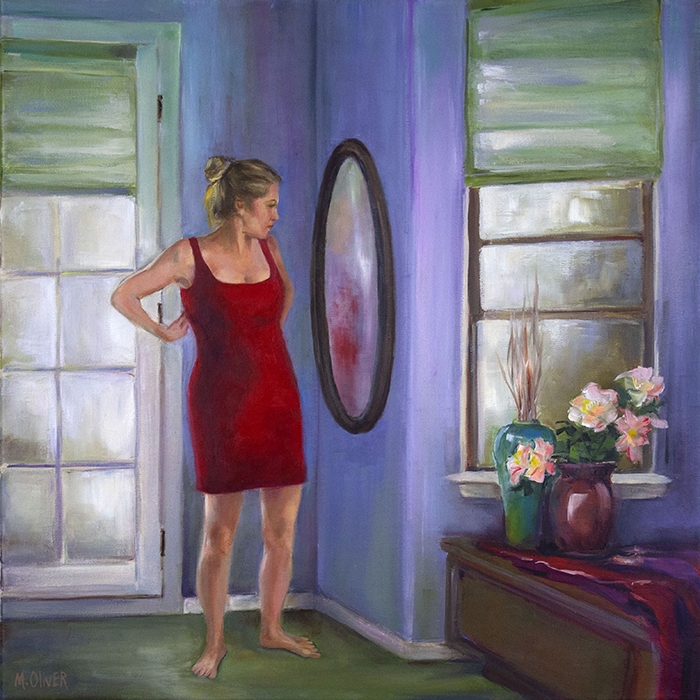 2021 Featured Piece
It Never Fits Right
Oil on canvas
20" x 20"
ARTIST'S INTERVIEW
What inspired It Never Fits Right?
The piece was originally going to be a self portrait…a photo that my husband took of me. I wanted to paint an interesting composition: me, the mirror, in a pretty room. As an artist, you paint what you see. I really didn't realize that I was actually scowling at myself until I looked closely at the photograph. When I got to my face, I painted exactly what I saw… me, not happy, with my body showing my continual struggle with body image. Just another way that nothing ever fits right on my body and often in my life.
When creating art, what is your preferred medium?
I paint in oils and acrylics, usually on a linen canvas.
What themes do you like to explore?
I love color and brush strokes and am somewhere in-between a photo realist and a loose stroke painter. I enjoy painting a variety of subjects: landscapes, flowers, birds, and people are among my favorites. I use reference material for accuracy.
What and/or who influences you as an artist?
I am influenced by a beautiful composition above all. If something looks beautiful and/or moves me in some way, I want to paint it.
What is your artistic process?
Unlike most trained artists, I have a weakness in drawing skills. Often I'll paint landscapes and flowers because they are so forgiving and I can play with brush strokes and use my imagination a bit. When it comes to people, animals, and birds, I use photographs and tracing which are typical tools for those subjects.
What do you feel your role is as an artist?
My goal as an artist is to creatively express myself, get lost in the meditative act of painting, and share beauty with others.
What got you into painting?
As a young child, I was always, painting, making jewelry, sewing, arranging flowers… doing something creative. I never lost the urge and took many art classes in college. As a young adult, I started work and did not come back to painting until I moved to the Central Coast and ran into a wonderful painting teacher through a serendipitous meeting (but that's another story!). She is my mentor and I am forever grateful for her.
Do you feel that art is a way to communicate your story?
I was born in Hollywood in 1957 and raised in Southern California. My mother is Lebanese and my father was German and I am a first generation American. They were not in tune with the culture and were often fighting and at odds with my brother and me who were just trying to fit in. We both found it very challenging. Growing up in L.A. in the 60's and 70's, straight hair and skinny was in and I was neither. I had a very slim and old fashioned mother who often called me fat and criticized my clothes, hair, and friends. I know now that I struggled with self-esteem and made some poor choices in my early years because of it. I still struggle sometimes as you see in my painting, It Never Fits Right.
ARTIST'S BIO
Mary Ann Oliver, RYT… Certified Yoga/Group Exercise Instructor, Singer, Artist
Mary Ann grew up in southern California and attended CSU, Northridge as a Liberal Arts major/minor in Art. Her interest in Mind/Body fitness coincided with her move in 2002. She immersed herself in yoga and dance and in 2008 became a Certified Group Exercise Instructor. She holds teaching certificates from YogaFit, SCW Fitness (Aquatic Exercise), Body Training Systems-Centergy (Yoga/Pilates) and her 200 hour R.Y.T. from Yoga Works (Iyengar, Ashtanga, Viniyoga). Mary Ann has taught all levels of yoga in studios throughout our wonderful Central Coast. She currently teaches at Sycamore Mineral Springs Resort and Kennedy Club Fitness. She loves the challenge of teaching the multilevel classes and the opportunity to introduce yoga to the many folks that have never tried yoga or meditation. She is most happy teaching Hatha, Therapeutic, Healing, and Restorative yoga classes and sharing the transformative power of yoga. She sings in the local vocal group "the Monotones" and lives with her husband in Arroyo Grande. She enjoys oil painting, beading, playing Mah Jongg, and spending time with family and friends.