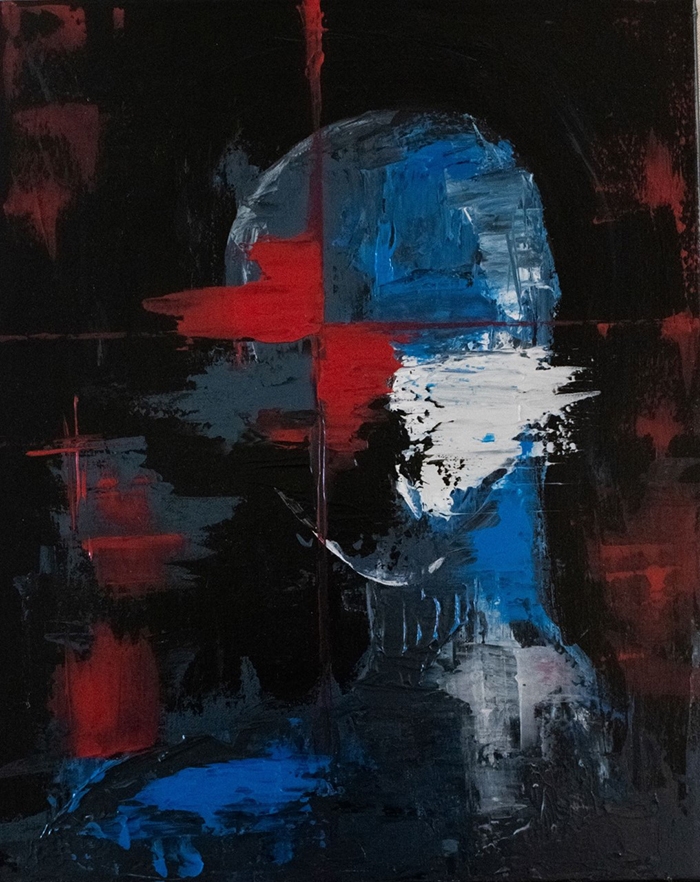 At the End
Acrylic on canvas
16" x 20"
What is the message of this painting?
The message is that depression gets you in a forever cycle of recovering and going back to the same state before recovery, except when this depression cycle becomes unbearable, the only end that people find is death. And this is what this painting is about - reaching the end.
What do you feel your role as an artist has in society?
I feel like I have to help people to express their emotions through art and not be ashamed of showing them to others. It is an important part as an artist to make the viewer feel that she/he/they is/are not alone and there are people who have the same problem, give the viewer a motivation to fight through whatever problem they are dealing with.
How has your background impacted your art?
I had depression a couple times in my life and the longest one was for 2 years. I understand this feeling of being like an empty shell, not feeling anything and questioning yourself, "what am I doing here?" Wanting to die and seeing that there is no one who cares about you. I understand that very well. I did have an episode of trying to kill myself, but I stopped at the right moment and thought that all of this will end soon and it will be back to normal.
What inspires you as an artist and what inspired this painting?
I was inspired to help people to understand that they are not alone and that there are people out there that can and will be glad to help and reach out. When I was painting this, I thought of myself when I experienced depression. I felt like I didn't have any emotions and that my life didn't have any more of those bright colors and busy life like before, that is why I drew a portrait without a face and in such a dark atmosphere.
What themes in art do you like to explore?
I like to explore themes like mental and physical health, to feel through what people feel during different conditions; portraits of people and people in general; nature. I like to explore paintings from the past and paintings that are currently painted by our generation.
What is your preferred medium to use?
I prefer to use pencil and acrylic paint.
Do you have anything else you would like to add?
Yes, I really like this painting and I hope that it will inspire and help as many people as possible who are going through depression or other mental illness, especially during the quarantine isolation. People have to take depression seriously, so if any person has depression and feels like she/he/they need/s help, you should approach TMHA's hot line number +1 (800) 783-0607 and talk just for a minute about it. I wish it will help a lot of people and I hope everyone is safe.