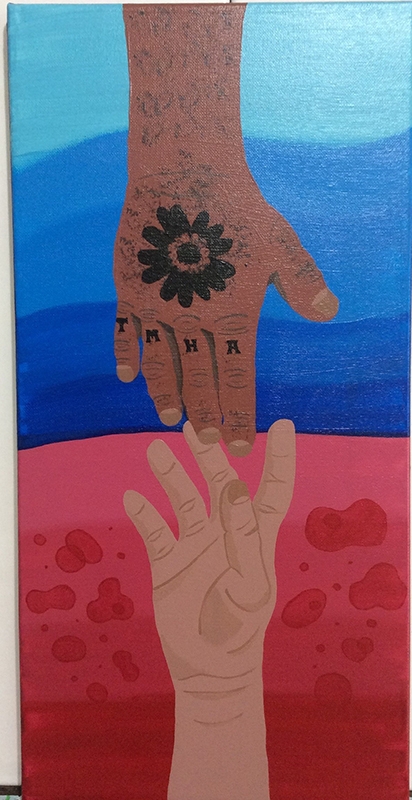 The Strong Arm of T-MHA
Acrylic on canvas
20" x 10"
ARTIST'S INTERVIEW
The Strong Arm of T-MHA is such a powerful image, its message far-reaching. What inspired this painting, and what does it mean to you?
My work at T-MHA inspired this creation as tribute to what we do. The strong arm symbolizes the combined strength of our workforce lifting someone out of the suffocating waters of a mental health crisis. They reach towards each other in mutual effort, which symbolizes the choice to reach out for help and the willingness to give it. The colors I chose symbolize their state of mind: red for torment, and blue for clarity.
What is your artistic process?
The deadline is set, my creative muse strikes, I sketch a few ideas, get really excited about a few that have a common theme, and commit, which means endless procrastination until a call for artists is sent out, then I work methodically, and become totally focused, like for a term paper I need a good grade on. Somewhere in there both discipline and moments of flow occur. I deeply enjoy a job well done, thorough in its nuance, and the expression of an idea in a totally visual way. The message behind the finished piece is what inspires me, not actually making it. If only I had a magic brush that did this automatically! Art is hard work.
Most artists have a specialty. Do you have a preferred medium when creating your work?
I do not have a favorite medium yet. I chose acrylic on canvas because my sister, the artist, says that it is the most forgiving!
What drives you to paint, and how long have you been painting?
Ever since I learned of the Opening Minds art show, I couldn't pass up an opportunity to gain a new skill and accomplish something. I started 4 years ago when I submitted pieces to the last show in North County, and was honored when they were also chosen to be featured at Sierra Vista Hospital!
Every artist has a message that they would like to send out into the world through their work. What do you feel your message is?
The theme of my art this year was hands, and how they are as expressive as our faces. After having learned some work-related sign language, a whole new world opened up to me. Hands speak a language of honesty and enthusiasm, full of emotion. Try 'listening' to them. The painting is a replica of my brother-in-law's and sister's hands who modeled for me.
Do you have a specific artist in mind that inspires you or something that drives your creative talent?
My sister inspires me with her authentic desire to create art about what she loves, which for a long time was wildlife, particularly birds. Although she has no website for perusal, she gained inspiration from working directly with animals at Pacific Wildlife Care, our local animal rescue and rehab center, and made beautiful pieces to sell at their fundraisers.