Depression
Acrylic on canvas
16" x 20"
"Depression is living in a body that fights to survive, with a mind that tries to die." - Anthony Benevidez
ARTIST'S INTERVIEW
The interesting feature of this painting is that it has two statements. One being that "Life is Great" and when you flip it upside down, the other says "I Hate Myself." What does the message of these two statements imply?
It implies that people with MDD (like myself) could be having an amazing day with my family and friends and everything going right and then depression kicks in and you start finding all the little flaws of that day and doubt all the goodness that has happened, and your [mood] can be turned around in an instant and make you feel like the worst failure in the world.
In your statement about this painting you mentioned that the ambigram was created by a suicide prevention program called Samaritan's of Singapore. Will you elaborate on why this ambigram and/or program is important to you?
Its important to me because they are doing a service in a culture again that has stigmatized mental health and the ambrigram is special because people do not appear how they always present, and you never know what someone is going through. Here is more info on SOS Samaritans of Singapore:
(SOS) is dedicated to providing confidential emotional support to individuals facing a crisis, thinking about suicide or affected by suicide. We are a secular non-profit organization comprised of full-time staff and volunteers. Our services include specialized counselling, support for those affected by the suicide of someone they know, referrals, training and workshops, outreach, and more. 24-hour Hotline: 1-800-221-4444 Email Befriending: pat@sos.org.sg Website: www.sos.org.sg"
The message of this painting is something that so many people can relate to. Putting on a front and pretending to be okay when you are not. Why do you feel that people do that and what do you feel they can gain by speaking their truth? Or do you have a different take on it?
Stigma, stigma, stigma is the main reason when it comes to pretending that you are ok. It also depends on your gender, upbringing and culture. Like for myself being a Mexican-American a.k.a. Chicano, men aren't supposed to share or even show their emotions/feelings and that is how I was raised. I was told not to cry because only weak people cried, so when I was in my mid 30's I cried for the first time since a child when I saw an ASPC commercial I literally broke down because it was years of trauma and suppressed feelings that I had. But since then I decided to break that cycle in my small family and I'm proud to say that I cry and that it is ok for men to cry, anyone for that matter. And on the other hand, it's ok to say that you are ok when asked "how are you?" All I ask is that if you're not, then please make the time to make sure you're using your mental health coping skills to get through that time.
What inspired this piece and what do you hope people will take with them after viewing this painting?
What inspired me to do this painting is that even though I have a great family, girlfriend, friends and career, every morning I still wake up with self-doubt, and for a split second, contemplate how the world would be better off without me, but I get up, meditate, exercise and get through these thoughts. What I am stating, though, is how it's ok to have these feelings, and if no one else validates you, I will!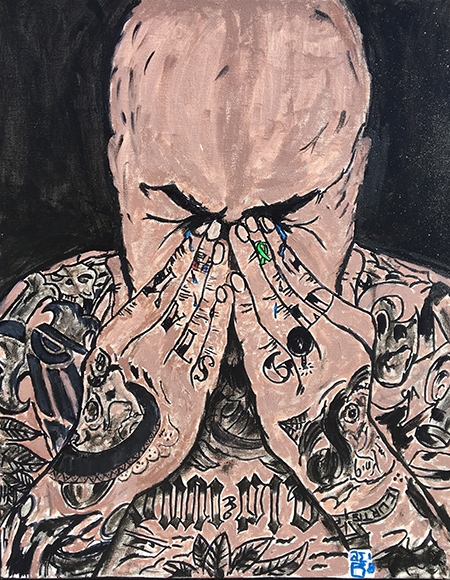 H.O.P.E.
Self-Portrait of Anthony Benevidez
This painting is of me and my most recent battle with Major Depressive Disorder, Post-Traumatic Stress Disorder and Severe Anxiety. I have battled with this diagnosis for most of my life, I could be having one of the greatest days of my life, and suicidal thoughts will still be in my head. Every day that goes by my brain wakes up with thoughts like "I wish I was dead" or "My loved ones would be better without me." These feelings are not my reality because I know I have things to live for; I know this too shall pass. People with mental illness live in a gray area and do not decide one day to up and end it. It is a constant battle in my head and I use all my tools in my mental health toolbox on a daily basis just to get through each day. I am not afraid of death, but I know I do not want to die; I know my friends and family love and care for me and want me around, but the dark thoughts in my mind counter those emotions with fear, anger and self-loathing. If you know someone who is suicidal or that has taken their own life, please know that there was nothing you could have or do about it; it is something we as individuals must get through. Please be patient and mindful of loved ones who struggle with mental illness and please listen and know the signs when they are in crisis and reach out. Talking saves lives sometimes but when someone is in that state of mind it may not be enough, unfortunately.
With that said the title of my painting is an acronym for those that have this daily battle to "Hold On Pain Ends" because each day we make it through in H.O.P.E. we live for a brighter day. Peace.
Anthony Benevidez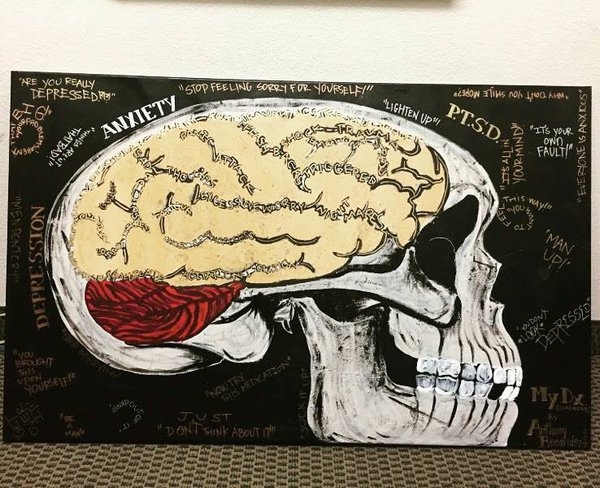 My Dx / My Diagnosis
Anthony's contact information and social media links: