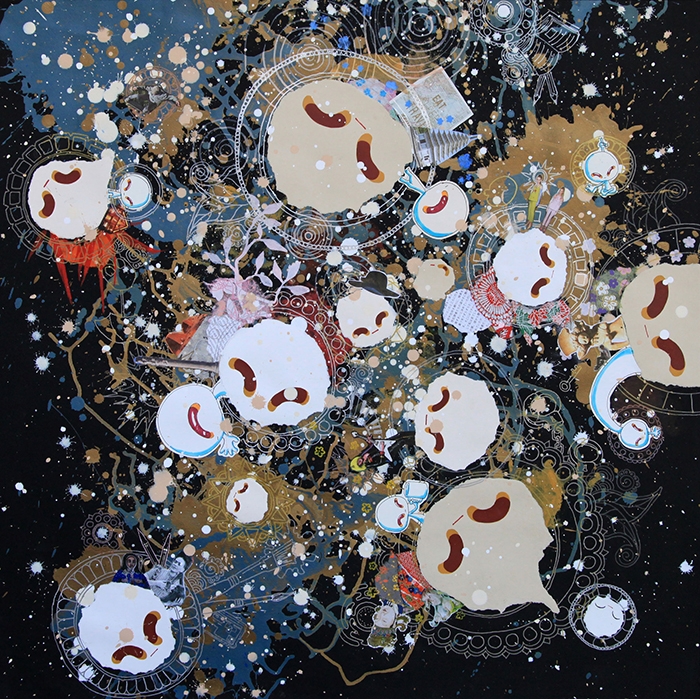 k.u.m.s.m.
Acrylic on paper
30" x 22"
"I believe that everyone perceives themselves—in some way—as a minority of sorts. I want to be a practicing artist to make my hope that Kondomozo may act as an ambassador of "Other-ness" and that people of all backgrounds will feel at home with him, or curious about him." - Jung ji "Masa" Lee
ARTIST'S INTERVIEW
Your art is so detailed and intricate. In k.u.m.s.m. there are smaller, individual images. What is the significance of the smaller pieces in relation to the piece as a whole?
I'm trying to capture the universe which might exist somewhere marginal, I believe it's the same spiritual world that Kandinsky tried to capture, Taiji in Yin and Yung philosophy, etc. Konodamazo works as my surrogate self which is a dual-national marginal creature and creates a universe with paint as a whole. I do the painting part consciously by taking my time but I do the doodling part spontaneously and subconsciously. Images with doodles just come from my mind, memory, websites, magazines or things within my sight. I work with paint and doodles back and forth again and again. This process and all the small images with konodamazo helps me to collect and correct my memory to shape my identity with the marginal universe that might exist inside of me and everyone else.
What inspires your journey as an artist?
I would say everything and nothing in my daily life.
In your artist statement, you describe Konodamazo, the floating, repeated shapes in the painting, as a character that serves as your surrogate self, and as an ambassador of "otherness." What do you hope this will accomplish in your paintings? Do you feel that Konodamazo is a self-reflection or something else?
Yes. It is my self-reflection. I tried to create konodamazo as the reflection of each viewer of my art. That's the main reason that I simplified all aspects of the character. Also I draw all konodamazo eyes to meet the viewers' eyes. Konodamazo's facial expressions are always the same like a Buddhist stature with an archaic smile. I experienced the beautiful moments that viewers talked about konodamazo's emotions. Some say konodamazo is smiling, some say crying, some say angry, etc. I believe that the viewers see their reflections in konodamazo. I hope more viewers can experience these kind of moments with konodamazo.
What is your preferred medium?
I view myself as a picture-drawer more than a painter, sculpturer, etc. I believe it's true because even one of my university teachers mentioned it. Drawing always helps me to connect myself to my childhood. Usual markers and pens are water-base, so I use acrylic mainly to combine with.
What do you feel your role as an artist has on society?
I believe my role is to show a perspective that many people never realize in daily life. Some perspectives shown by artists might have a power to change the world, stop a war, etc. I am not talking that kind of big change/power but hope my art can help one person feel not alone.
Has your work changed over time?
Yes. From time to time, I am trying to check my old works. This is the same process of collection/correction. Every time I go through this process, I realize my lack of technique and pure sense in my past. This process helps me to improve my art.